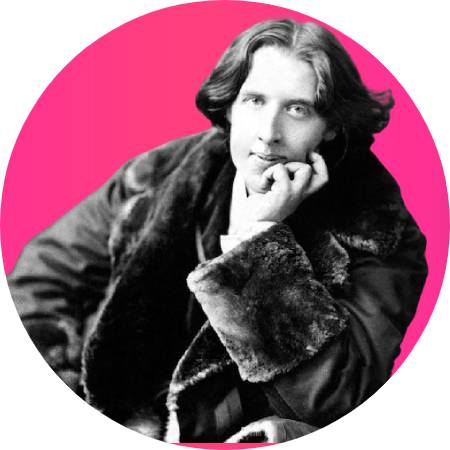 Oscar Wilde Quotes
Best collection of Oscar Wilde Quotes on Life, Love, fashion,​ motivation​, Success, Happiness and Motivation.
Latest Oscar Wilde Quotes
Behind every exquisite thing that existed, there was something tragic.
A gentleman is one who never hurts anyone's feelings unintentionally.
It is not the perfect, but the imperfect, who have need of love.
Women have a wonderful instinct about things. They can discover everything except the obvious.
Love is a misunderstanding between two fools.
Because sometimes you have to do something bad to do something good.
I can't stand people that do not take food seriously.
When I was young I thought that money was the most important thing in life; now that I am old I know that it is.
Ultimately the bond of all companionship, whether in marriage or in friendship, is conversation.
I have spent most of the day putting in a comma and the rest of the day taking it out.
To have become a deeper man is the privilege of those who have suffered.
It is what you read when you don't have to that determines what you will be when you can't help it.
I love to talk about nothing. It's the only thing I know anything about.
Everybody who is incapable of learning has taken to teaching.
The only thing I cannot resist is temptation.
Education is an admirable thing, but it is well to remember from time to time that nothing that is worth knowing can be taught.
The moment that an artist takes notice of what other people want, and tries to supply the demand, he ceases to be an artist.
Any place that we love becomes our world.
When both a speaker and an audience are confused, the speech is profound.
Hear no evil, speak no evil, and you won't be invited to cocktail parties.
Morality is simply the attitude we adopt towards people whom we personally dislike.
We live in an age when unnecessary things are our only necessities.
A man who marries his mistress leaves a vacancy in that position.
Life is never fair, and perhaps it is a good thing for most of us that it is not.
Don't give a woman advice; one should never give a woman anything she can't wear in the evening.
The curves of your lips rewrite history.
Always be a little unexpected.
Don't be afraid. There are exquisite things in store for you. This is merely the beginning.
Men marry because they are tired; women, because they are curious; both are disappointed.
Some people always know the price, but not the value
It is absurd to divide people into good and bad. People are either charming or tedious.
If you want to tell people the truth, make them laugh, otherwise they'll kill you.
Be moderate in all things, including moderation.
We are all in the gutter, but some of us are looking at the stars.
No man is rich enough to buy back his past.
Never love anyone who treats you like you're ordinary.
A dreamer is one who can only find his way by moonlight.
Put your talent into your work, but your genius into your life.
You are Beautiful when you are happy
Ordinary riches can be stolen; real riches cannot. In your soul are infinitely precious things that cannot be taken from you.
Nature: a place where birds fly around uncooked
Woman begins by resisting a man's advances and ends by blocking his retreat.
One should always be in love. That is the reason one should never marry.
Imitation is the sincerest form of flattery that mediocrity can pay to greatness.
Love will fly if held too lightly Love will die if held too tightly . . .
Marriage is a long, dull meal with dessert served at the beginning.
To do nothing at all is the most difficult thing in the world, the most difficult and the most intellectual.
Marriage is the triumph of imagination over intelligence. Second marriage is the triumph of hope over experience.
The best revenge is to live well.
If you don't get everything you want, think of the things you don't get that you don't want.
Life is too short to learn German
Every saint has a past, and every sinner has a future.
A passion for pleasure is the secret of remaining young.
Some things are too important to be taken seriously.
To love oneself is the beginning of a lifelong romance.
In love, it is better to know and be disappointed, than to not know and always wonder.
A man can be happy with any woman, as long as he does not love her.
To live in this world is a rare thing; most people just exist.
There is no such thing as morality or immorality in thought. There is immoral emotion.
With freedom, books, flowers, and the moon, who could not be happy?
---
Motivational Quotes by author