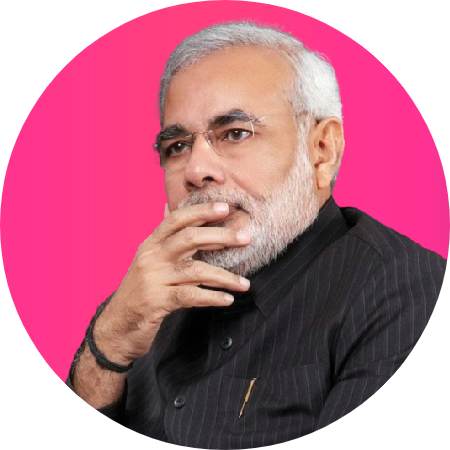 Narendra Modi Quotes
Best collection of Narendra Modi Quotes on Success, Friendship, Politics, Leadership, Education and Democracy.
Latest Narendra Modi Quotes
In democracy, people's verdict is always final and we all have to accept it with humility.
While 1857 was about 'Swaraj ki ladai', the 2014 elections would be about 'Surajya ki ladai'.
I dream of a Digital India where high-speed Digital Highways unite the Nation.
We need to make India capable, prosperous.
Fighting Climate Change calls for innovation, cooperation and will power to make the changes that the world needs.
Laws are the DNA of government. They must evolve with time.
I believe that India is such a big country that one must do as much work as possible. So I keep doing that.
Based on my experience, I can say that India country can be freed of corruption.
Dignity of labour has to be our national duty; it has to be a part of our nature.
We do not need men and women from other planets to develop India. Our people, our youth are skilled.
When approached right, citizens never fail to shoulder their responsibilities.
Sab kaa saath, sab kaa vikas. This is our mantra.
If you love someone, set them free. If they come back, he's probably LK Advani
I invite you all to participate in Make in India.
A youthful nation like ours must leave an impact in the entire world.
India is once again ready to play the role of 'Vishvaguru' and work towards the benefit of mankind.
In a democracy, dynasty politics is wrong. We need to free the state and nation from it.
We must acknowledge the importance of teachers to the society.
I dream of a Digital India where access to Information knows no barriers.
There is new hope among people that this dispensation can fulfill their aspirations.
The media wanted me to speak since morning. But I wanted to speak to Vadodara first Vadodara has first right on me.
One should play and sweat. Life shouldn't be bogged down by books.
Ethics and Equity are at the core of debate of climate change. Debate has to move from Climate Change to Climate Justice.
Cleanliness & good sanitation in schools is a matter of high importance.
Let each one of us not waste electricity at home. By doing this, we will also light a lamp in the home of a poor.
There can be no better place than India to manufacture, expand, and grow.
Good governance needs self-discipline. Only discipline within can ensure discipline without.
I dream of a Digital India where knowledge is strength - and empowers the People.
Religion to me is devotion to work and devotedly working is being religious.
Once we decide we have to do something, we can go miles ahead.
Development must be such that it positively transforms the lives of the common people.
I am a small man who wants to do big things for small people.
Our ancestors used to play with snakes, we play with mouse.
Anyone who believes he is bigger than the system is wrong.
Until teachers get their due it is difficult to bring about a change.
I will make such a wonderful India that all Americans will stand in line to get a visa for India
Innovation no longer remains a choice but has become an imperative.
Our demographic dividend is our strength. The youth have what it takes to engage with the latest technology.
Mahatma Gandhi never compromised on cleanliness. He gave us freedom. We should give him a clean India.
I want to do small things, for small people, and to make the small people big.
The wealth that increases by giving, That wealth is knowledge and is supreme of all possessions. Narendra Modi
Both teachers and students must move ahead together for the nation to progress.
I haven't done anything wrong that I need to make up for. I am what I am in front of the world.
Each one of us has both; good and evil virtues. Those who decide to focus on the good ones succeed in life.
The more we give importance to skill development, the more competent will be our youth.
By getting an opportunity to serve society, we get a chance to repay our debt.
It' easy to find information on Google guru but that's not equal to gaining knowledge.
With the gun you can make the earth red but if you have a plough you can make the earth green.
If you are determined nothing can stop you from determining your dreams.
Celebrate the birth of a girl child by planting 5 trees in your village.
Good governance depends on ability to take responsibility by both administration as well as people.
Don't dream to be something but rather dream to do something great.
The importance of a journey is not measured by the distance covered, but by the destination reached.
'Brand India' is built of 5 Ts - talent, tradition, tourism, trade and technology.
Mind is never a problem. Mindset is
An opportunity to work is good luck for me. I put my soul into it. Each such opportunity opens the gates for the next one.
Hard work never brings fatigue. It brings satisfaction
Social media is reducing social barriers. It connects people on the strength of human values, not identities.
I come from a poor family, I have seen poverty. The poor need respect, and it begins with cleanliness.
Our constitution is a ray of hope: H for harmony, O for Opportunity, P for people's participation and E for equality.
---
Motivational Quotes by author