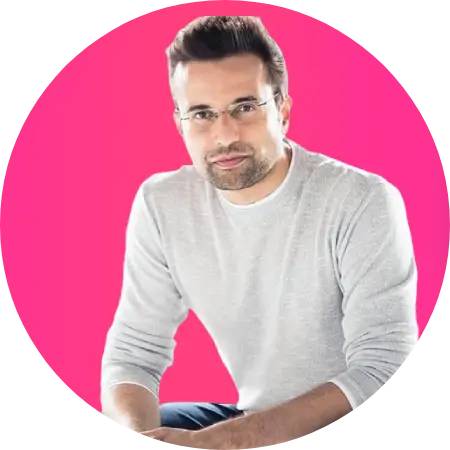 Sandeep Maheshwari Quotes
Best collection of 'Motivational Speaker' Sandeep Maheshwari Quotes on life​, Love, Leadership, development, decision making, Entrepreneurship, Business and Motivation.
Latest Sandeep Maheshwari Quotes
Don't starve for a little Inspiration from the world.
Don't panic about what people think about you, be proud of what you think about yourself.
You have the power to change the world, use it and make a difference.
It's better when you work according to your strength, take part in a race where you think you can.
Not thousands, but find out one big reason to do something you really want to do.
Clarity of purpose is like a lighthouse in the darkness.
Do not find a way to escape from a problem, find a way to solve it.
The illusion of luck disappears when we start seeing things as they actually are.
The only way to clear your mind is to stay grounded in reality.
Success is not an event. It is a though process.
If you really wanted to be successful, stop worrying about what you can get, and start focusing on what you can do.
Your desire to change must be greater than your desire to be the same.
Never be afraid to be different from those around you.
Success is not about getting all those you don't have. Success is to keep going even after losing all that you have.
Everything you desire is within you, look within and you'll find everything.
Success comes from experience, and experience comes from a bad experiences.
Never underestimate yourself, you are much more than you think.
If you have more than you need, simply share it with those who need it the most.
This world will change because it's easy and possible.
To do something in life, follow the truth.
If you have patience inside, then you can decide every situation peacefully.
Desire is one of the biggest power in the world.
When you remove desire from the world, then everything will stop within a day.
If the reason to live is bigger enough, then it will cause you to do bigger things.
Those who are sleeping, wake up. Those who are sitting, get up. Start growing.
Failure always slaps you in public, but success always meets you in private.
Remember, the bigger was once the smaller.
Always remember, you are much bigger than your problems.
Stop doubting yourself, work hard and do it.
The inspiration which is passing from inside to outside has got no limit.
One side there is joy, and the other side there is pain, we have to create a balance between them.
Learn to control your thoughts, or it may control you.
We may have failed many times, but we are not a failure until we give up.
Stop judging yourself for your failures, rather, start appreciating yourself for everything you achieved.
Be the hero in your own sight. The person who is great in his own thinking, one day he will be the hero at the sight of the world.
If you are really looking for the person who can change your life, then go and have a look in the mirror.
Complete the commitment you made with yourself first, if you can't full fill your own commitment then you can never full fill the commitment made with the world.
It doesn't matter what you think, what you hear and what you speak, something that matters is what you believe, because what you believe, one day you become that.
If you changed your habits, then it also changes your life, if not then there will be the same things in your life, which were there as usual.
I'm not successful because some people think that I'm successful, I'm successful because I think I'm.
In the race of life, we don't have to stop neither run, but just keep going.
Don't become powerful so that you can overpower others, you have to get powerful so that no one can overpower you.
Whether you like it or not, whether you accept it or not, whether you believe it or not, but your life is like the way you made it.
Never feel limited, you are much more than you think.
Whatever I'm today, that's because of my failures.
When you are in search for something that no one else ever found, if this desire is born inside, then you don't have to do anything, the desire will start doing through you.
If you have to choose desire, then choose the bigger, bigger than the world.
If you want to achieve greatness then stop seeking permission.
Those who know the purpose of their work that why are they doing it, what are they doing, and even knows how are they doing, then no one can stop them.
One side is what you want to do? What do you want to achieve? And the other side is what the world wants to do with you.
Focus on learning not in earning, earning is always in the future, and learning is present in your present moment.
After being failed also, I'm getting up and waking ahead, I'm not loosing, and after all these, if I succeed, then what a success it will be.
Life gives you chances like balls after balls, if you missed one, then focus on the next ball.
Keep learning, those who are learning, are alive, those who stopped learning, are deadly alive.
Whenever someone says that you can't do it, that means he is saying that he himself can't.
People keep saying that what's there in this business, what is there to gain in that job, let me advise them; there is nothing to pick in a business or job, there are no containers full of gold, but we have to mine it.
I perform every seminar for free, but the day you get to benefit from it, fill the empty stomach of any hungry person, I will assume that I got my money.
Doing something without thinking, and always thinking without doing is resulted in 100% failure.
My mission is to bring up unlimited leaders in India and in the whole world.
Neither leave the ground nor wait, keep going, just keep going.
---
Motivational Quotes by author