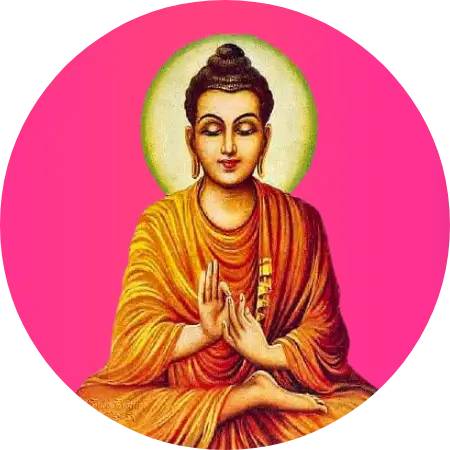 Gautam Buddha Quotes
Best collection of Gautam Buddha Quotes On Life, Education, Success, Peace, Death and Civil Liberties.
Latest Gautam Buddha Quotes
The good renounce everything. The pure don't babble about sensual desires. Whether touched by pleasure or pain, the wise show no change of temper.
The fool who thinks he is wise is just a fool. The fool who knows he is a fool is wise indeed.
When an evil-doer, seeing you practise goodness, comes and maliciously insults you, you should patiently endure it and not feel angry with him, for the evil-doer is insulting himself by trying to insult you.
How does one practice mindfulness? Sit in meditation. Be aware of only your breath.
We do not learn by experience, but by our capacity for experience.
Wherever you live is your temple, if you treat it like one.
In protecting oneself, others are protected; In protecting others, oneself is protected.
Nothing is forever except change.
Before giving, the mind of the giver is happy; while giving, the mind of the giver is made peaceful; and having given, the mind of the giver is uplifted.
Only within our body, with its heart and mind, can bondage and suffering be found, and only here can we find true liberation.
Even loss and betrayal can bring us awakening.
You are all Buddhas. There is nothing you need to achieve. Just open your eyes.
To utter pleasant words without practicing them, is like a fine flower without fragrance.
Treat others with respect. How you treat others will be how they treat you.
On a long journey of human life, faith is the best of companions; it is the best refreshment on the journey; and it is the greatest property.
By your own efforts waken yourself, watch yourself. And live joyfully.
Observe the life by cause and consequence. Explore the life by wisdom. Treat the life by equality. Complete the life by love.
Dispassion is the best of mental states. . . .
To keep the body in good health is a duty, for otherwise we shall not be able to trim the lamp of wisdom, and keep our mind strong and clear.
Health is the first benefit. Content is the first fortune. Friendliness is the first kindness. Nirvana is the first happiness.
All rising to great places is by a winding stair.
Do not speak - unless it improves on silence.
Goodwill toward all beings is the true religion; cherish in your hearts boundless goodwill to all that lives.
The tongue like a sharp knife ... Kills without drawing blood.
There are two things that we should avoid, oh disciple! A life of pleasures, that is low and vain. A life of mortification, that is useless and vain.
By giving away food we get more strength. By bestowing clothing on others we gain more beauty. By donating abodes of purity and truth we acquire great treasures.
Flower and thorn are in the same stem.
"Existence is sorrow." Understand, and go beyond sorrow. This is the way of brightness.
If you don't see God in the next person you meet, look no further.
Dignity and quiet joy in all that we do are the expression of perfect concentration and perfect wisdom.
What's done to the children is done to society.
A fool learns nothing from a wise man; but a wise man learns from a fool.
It is good to have companions when occasion arises, and it is good to be contented with whatever comes.
Greed is an imperfection that defiles the mind; hate is an imperfection that defiles the mind; delusion is an imperfection that defiles the mind.
Set your heart on doing good. Do it over and over again, and you will be filled with joy.
Just as the great ocean has one taste, the taste of salt, so also this teaching and discipline has one taste, the taste of liberation.
The secret of happiness lies in the mind's release from worldly ties.
Suffering does not befall him who is without attachment to names and forms.
If dresses would have qualified people, then whores would have ruled the world.
Even if everyone elseIs not doing good,I alone will.Even if everyone elseis doing wrong,I alone will not.
We must be diligent today. To wait until tomorrow is too late. Death comes unexpectedly. How can we bargain with it?
Do not be jealous of others' good qualities, but out of admiration adopt them yourself.
A person is ruined by taking the measure of other persons.
Endurance is one of the most difficult disciplines but it is to the one who endures that the final victory comes.
Anyone who is not working toward the truth is missing the whole point of living.
Water surrounds the lotus flower, but does not wet its petals.
Be a lamp to yourself. Be your own confidence. Hold on to the truth within yourself as to the only truth.
To awaken, sit calmly, letting each breath clear your mind and open your heart.
Whoever doesn't flare up at someone who's angry wins a battle hard to win.
Suffering is wishing things were other than they are.
Do not say anything harsh: what you have said will be said back to you.
Things are not what they appear to be: nor are they otherwise.
Let your diet be spare, your wants moderate, your needs few. So, living modestly, with no distracting desires, you will find content.
To walk safely through the maze of human life, one needs the light of wisdom and the guidance of virtue.
Your suffering is my suffering and your happiness is my happiness.
Just as a snake sheds its skin, we must shed our past over and over again.
Your worst enemy is your best teacher.
The wise man makes an island of himself that no flood can overwhelm.
Apply yourself to solitude. One who is given to solitude knows things as they really are.
In our lives, change is unavoidable, loss is unavoidable. In the adaptability and ease with which we experience change, lies our happiness and freedom.
---
Motivational Quotes by author