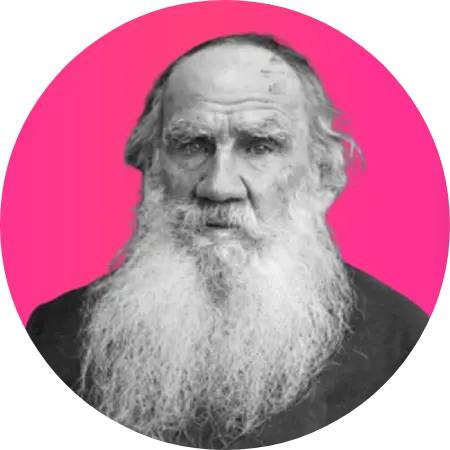 Leo Tolstoy Quotes
Best collection of Leo Tolstoy Quotes On Life, Love, god, family, death and Happiness.
Latest Leo Tolstoy Quotes
Every unhappy family is unhappy in its own way.
The truth is obtained like gold, not by letting it grow bigger, but by washing off from it everything that isn't gold
One of the first conditions of happiness is that the link between Man and Nature shall not be broken.
I must write each day without fail, not so much for the success of the work, as in order not to get out of my routine.
Not one word, not one gesture of yours shall I, could I, ever forget.
The sole meaning of life is to serve humanity.
A leader is the wave pushed ahead by the ship.
It is by those who have suffered that the world has been advanced.
Human love serves to love those dear to us but to love one's enemies we need divine love.
The only significance of life consists in helping to establish the kingdom of God.
The recognition of the sanctity of the life of every man is the first and only basis of all morality.
Be bad, but at least don't be a liar, a deceiver!
It is within my power either to serve God or not to serve Him. Serving Him, I add to my own good and the good of the whole world. Not serving Him, I forfeit my own good and deprive the world of that good, which was in my power to create.
There is no significant idea which cannot be explained to an intelligent twelve year old boy in fifteen minutes.
Just when the question of how to live had become clearer to him, a new insoluble problem presented itself - Death.
To sin is a human business, to justify sins is a devilish business.
I think... if it is true that there are as many minds as there are heads, then there are as many kinds of love as there are hearts.
Man by violating his own feelings becomes cruel. And how deeply seated in the human heart is the injunction not to take life.
To abolish war it is necessary to abolish patriotism, and to abolish patriotism it is necessary first to understand that it is an evil. Tell people that patriotism is bad and most will reply, 'Yes, bad patriotism is bad, but mine is good patriotism.'
The struggle with evil by means of violence is the same as an attempt to stop a cloud, in order that there may be no rain.
He never chooses an opinion; he just wears whatever happens to be in style.
There is nothing more harmful to you than improving only your material, animal side of life. There is nothing more beneficial, both for you and for others, than activity directed to the improvement of your soul.
Love does not exist. There exists the physical need for intercourse, and the rational need for a mate in life
All the variety, all the charm, all the beauty of life is made up of light and shadow.
You consider war to be inevitable? Very good. Let everyone who advocates war be enrolled in a special regiment of advance-guards, for the front of every storm, of every attack, to lead them all!
Only people who are capable of loving strongly can also suffer great sorrow, but this same necessity of loving serves to counteract their grief and heals them.
Government is an association of men who do violence to the rest of us.
Something magical has happened to me: like a dream when one feels frightened and creepy, and suddenly wakes up to the knowledge that no such terrors exist. I have wakened up.
Everyone wants to change the world, but nobody wants to change himself.
And so he who looks down at his feet will not know the truth, but he who discerns by the sun which way to go.
To tell the truth is very difficult, and young people are rarely capable of it.
Well, pray if you like, only you'd do better to use your judgment.
Those whom God wishes to destroy he drives mad.
Mathematics is the queen of disciplines.... it will drive the nonsense out of your head!
I say that the God who created the world in six days and who sent His son, and also his son himself, are not God, but that God is the one existing, incomparable good, the beginning of everything.
Life is fragile and absurd.
To get rid of an enemy one must love him.
In difficult circumstances always act on first impressions.
Everything comes in time to him who knows how to wait. There is nothing stronger than those two: patience and time, they will do it all.
By words one transmits thoughts to another, by means of art, one transmits feelings.
I don't allow myself to doubt myself even for a moment.
What I think about vivisection is that if people admit that they have the right to take or endanger the life of living beings for the benefit of many, there will be no limit to their cruelty.
We're asleep until we love.
Even in the valley of the shadow of death, two and two do not make six.
Wealth is a great sin in the eyes of God. Poverty is a great sin in the eyes of man.
In order to get the power and retain it, it is necessary to love power; but love of power is not connected with goodness, but with qualities which are the opposite of goodness, such as pride, cunning, cruelty.
All happy families resemble one another, each unhappy family is unhappy in its own way.
God cannot be understood by logical reasoning but only by submission.
Life could be limitless joy, if we would only take it for what it is, in the way it is given to us.
There can be only one permanent revolution- a moral one: the regeneration of the inner man.
For if we allow that human life is always guided by reason, we destroy the premise that life is possible at all.
If, then, I were asked for the most important advice I could give, that which I considered to be the most useful to the men of our century, I should simply say: in the name of God, stop a moment, cease your work, look around you.
Every heart has its own skeletons.
The most mentally deranged people are certainly those who see in others indications of insanity they do not notice in themselves.
Am I mad, to see what others do not see, or are they mad who are responsible for all that I am seeing?
There are no conditions to which a man cannot get accustomed, especially if he sees that everyone around him lives in the same way.
In the name of God, stop a moment, cease your work, look around you.
You see, if you take pains and learn in order to get a reward, the work will seem hard; but when you work... if you love your work, you will find your reward in that.
We can know only that we know nothing. And that is the highest degree of human wisdom.
---
Motivational Quotes by author