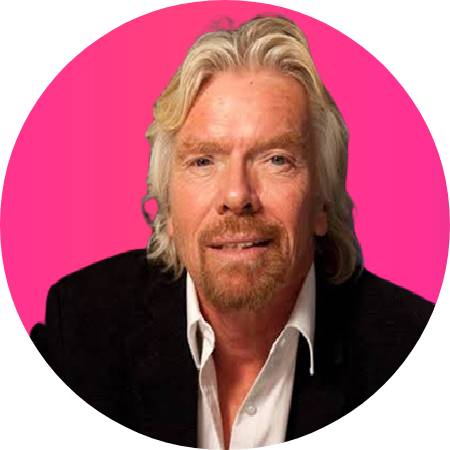 Richard Branson Quotes
Best collection of Richard Branson Quotes on Success, Life, Employees​, Training​, Work, Education, Entrepreneurs, Leadership, Business and Students.
Latest Richard Branson Quotes
Business opportunities are like buses, there's always another one coming.
Never take your eyes off the cash flow because it's the life blood of business.
If you don't enjoy it, don't do it. You must love what you do.
Give your employees a mission that matches their ambitions. When you challenge people, they surprise you.
There are no quick wins in business - it takes years to become an overnight success.
People have to decide on priorities if they want to get anywhere. The best lessons I learned was to just do it.
Complexity is your enemy. Any fool can make something complicated. It is hard to keep things simple.
Just start. You will learn so many lessons just by doing.
Life's too short. If you're passionate - stand up.
Talent comes from experience and failure
Breaking the rules and challenging convention is in the DNA of every successful entrepreneur.
If you don't have time for the small things, you won't have time for the big things
Every great movement in the world starts with a tiny group of people who simply refuse to accept a situation.
Learn to look after your staff first and the rest will follow
Throwing yourself into a job you enjoy is one of the life's greatest pleasures!
Learn to use your brain power. Critical thinking is the key to creative problem solving in business.
Please be polite. Nothing in life should erode the habit of saying thank you to people or praising them.
Brave people don't live forever, but cautious people don't live at all.
If you take care of your workers they'll take care of your business.
A good leader leads from the front. Don't get stuck in the office. Get out, meet people and listen to their stories.
Consider getting smaller in order to get bigger.
A company's employees are its greatest asset and your people are your product
Succeeding in business is all about making connections
Most "necessary evils" are far more evil than necessary.
A business is simply an idea to make other people's lives better.
The best advice I ever received? Simple: Have no regrets.
Your company should act as a springboard for ambitious employees, not a set of shackles.
Don't become a slave to technology - manage your phone, don't let it manage you.
Past failures unlock future successes
There is so much to be learned from listening to people's hopes, frustrations, and points of view
Play fair, be prepared for others to play dirty, and don't let them drag you into the mud.
Have faith in yourself. Think yes not no. Live life to the full. Never give up.
The best advice I could give anyone is to spend your time working on whatever you are passionate about in life.
Drive, determination, passion and hard work are all free and more valuable than a pot of cash.
The way you treat your employees is the way they will treat your customers
To launch a business means successfully solving problems. Solving problems means listening.
If you want to stand out from the crowd, give people a reason not to forget you
Please don't get hung up on this question of whether you need to have experience in an industry before you launch your startup.
Create the kind of workplace and company culture that will attract great talent. If you hire brilliant people, they will make work feel more like play.
My biggest motivation? Just to keep challenging myself
Dreaming is one of humanity's greatest gifts; it champions aspiration, spurs innovation, leads to change, and propels the world forward.
The quickest way to become a millionaire in the airline business is to start out as a billionaire.
Remember the to-do list but don't forget the to-be list.
Don't bother doing something unless you're radically different from the competition.
Listen. Take the best. Leave the rest.
My general attitude to life is to enjoy every minute of every day. I never do anything with a feeling of, 'Oh God, I've got to do this today.'
Your brand name is only as good as your reputation
If you look for the best in your employees, they'll flourish. If you criticize or look for the worst, they'll shrivel up. We all need lots of watering.
Don't think what's the cheapest way to do it or what's the fastest way to do it. Think what's the most amazing way to do it.
Chance favors the prepared mind. The more you practice, the luckier you become.
Launching a business is essentially an adventure in problem-solving.
Unless you dream, nothing will happen. If you dream, you might be able to make your dreams come true.
If you want to be a Millionaire, start with a billion dollars and launch a new airline.
Unless you dream, you're not going to achieve anything.
No matter how big you are, details count!
Life is a helluva lot more fun if you say yes rather than no
Starting a business is a huge amount of hard work... You had better enjoy it.
You can't run a business without taking risks. The brave may not live forever - but the cautious do not live at all!
Spend more time smiling than frowning and more time praising than criticizing.
We've all got to do everything we can to avoid conflicts.
---
Motivational Quotes by author