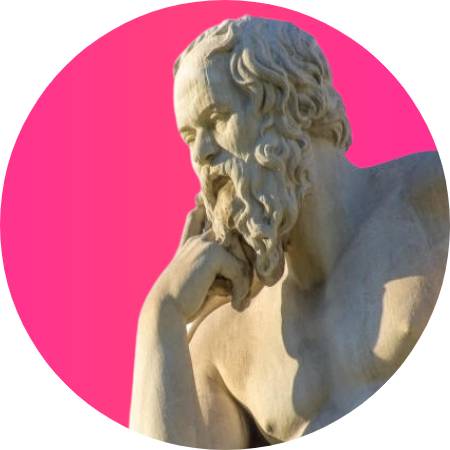 Socrates Quotes
Best collection of Socrates Quotes on Life, Happiness, Leadership​, Democracy, Philosophy, Self, Justice & Wisdom
Latest Socrates Quotes
Lies are the greatest murder. They kill the Truth.
All that I know is nothing - I'm not even sure of that.
To move the world we must move ourselves.
Better to do a little well, then a great deal badly.
The unexamined life is not worth living.
Silence is a profound melody, for those who can hear it above all the noise.
I call myself a Peaceful Warrior... because the battles we fight are on the inside.
The years wrinkle our skin, but lack of enthusiasm wrinkles our soul.
When you want success as badly as you want the air, then you will get it. There is no other secret of success.
He is the richest who is content with the least.
I am a fool, but I know I'm a fool and that makes me smarter than you.
There are two kinds of disease of the soul, vice and ignorance.
It is better to make a mistake with full force of your being than to carefully avoid mistakes with a trembling spirit.
To Believe without evidence and demonstration is an act of ignorance and folly
If what you want to tell me is neither True nor Good nor even Useful, why tell it to me at all
Sometimes you have to let go to see if there was anything worth holding onto.
Trust not a woman when she weeps, for it is her nature to weep when she wants her will.
I am a Citizen of the World, and my Nationality is Goodwill.
When a woman is allowed to become a man's equal, she becomes his superior.
Beware the barrenness of a busy life.
Do not grieve over someone who changes all of the sudden. It might be that he has given up acting and returned to his true self.
Nothing is so well learned as that which is discovered.
The only place where success comes before work is in the dictionary. There is only one good, knowledge, and one evil, ignorance.
An education obtained with money is worse than no education at all.
The more I learn, the less I realize I know.
One should never do wrong in return, nor mistreat any man, no matter how one has been mistreated by him.
Understanding a question is half an answer.
There is no possession more valuable than a good and faithful friend.
Be the kind of person that you want people to think you are.
There is no learning without remembering.
Marry or marry not, in any either case you'll regret it
The body cannot be cured without regard for the soul.
There's no good answer to a question you didn't hear
Prefer knowledge to wealth, for the one is transitory, the other perpetual.
Four things belong to a judge: to hear courteously, to answer wisely, to consider soberly, and to decide impartially.
You never know a line is crooked unless you have a straight one to put next to it.
To need nothing is divine, and the less a man needs the nearer does he approach to divinity.
All wars are fought for the acquisition of wealth
Our lives are but specks of dust falling through the fingers of time. Like sands of the hourglass, so are the days of our lives.
A system of morality that is based on relative emotional values is a mere illusion, a thoroughly vulgar conception that has nothing sound in it and nothing true.
My friend...care for your psyche...know thyself, for once we know ourselves, we may learn how to care for ourselves
It is possible that a man could live twice as long if he didn't spend the first half of his life acquiring habits that shortens the other half
An honest man is always a child.
The really important thing is not to live, but to live well. And to live well meant, along with more enjoyable things in life, to live according to your principles.
We can do nothing without the body, let us always take care that it is in the best condition to sustain us.
How can you call a man free when his pleasures rule over him.
It is better to suffer an injustice than to commit one
The rest of the world lives to eat, while I eat to live.
Knowing thyself is the height of wisdom.
Do not go through life like leaf blown from here to there believing whatever you are told.
Let us follow the truth whither so ever it leads.
To harm another is to harm oneself
Remember, no human condition is ever permanent. Then you will not be overjoyed in good fortune nor too scornful in misfortune.
The only true wisdom is in knowing you know nothing.
Improve yourself by other men's writings thus attaining effortlessly what they acquired through great difficulty.
The real danger in life is not death, but living an evil life.
Nobody knows what death is, nor whether to man it is perchance the greatest of blessings, yet people fear it as if they surely knew it to be the worse of evils.
All thinking begins with wondering
Bad men live that they may eat and drink, whereas good men eat and drink that they may live.
---
Motivational Quotes by author