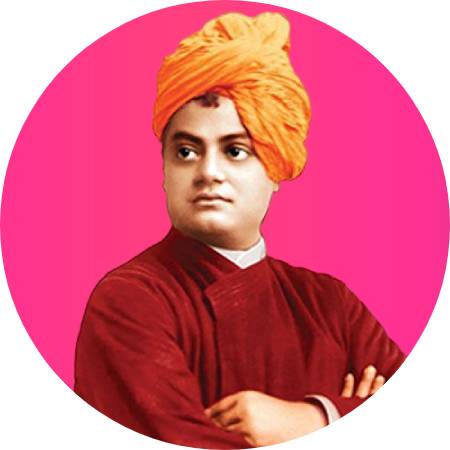 Swami Vivekananda Quotes
Famous Swami Vivekananda Best Quotes and Thoughts for God, Students, Youth, Truth, Strength, Power, Success And Spirituality
Latest Swami Vivekananda Quotes
You must keep a strict eye on your health; let everything else be subordinated to that.
There is no virtue higher than non-injury.
Work and worship are necessary to take away the veil, to lift off the bondage and illusion.
Man always is perfect, or he never could become so; but he had to realise it.
The mistake is that we cling to the body when it is the spirit that is really immortal.
The body cannot be the soul.
Why should a Man be Moral? Because this strengthens his will.
Please everyone without becoming a hypocrite or a coward.
Put God behind everything-human beings, animals, food, and work. Make this a habit.
The first sign of your becoming religious is that you are becoming cheerful
Our supreme duty is to advance toward freedom - physical, mental, and spiritual - and help others to do so.
Self-sacrifice, not self-assertion, is the law of the highest universe.
All the work you do, is done for your own salvation, is done for your own benefit.
My countrymen should have nerves of steel, muscles of iron, and minds like thunderbolt.
Things do not grow better; they remain as they are. It is we who grow better, by the changes we make in ourselves.
The truths of Upanishadas are before you. Take them up, live up to them, and the salvation of Bharat will be at hand.
Man's experience in the world is to enable him to get out of its whirlpool.
Education is the manifestation of perfection already existing in man.
They only live, who live for others, the rest are more dead than alive.
According to the Hindu way of thinking, marriage is rather a duty than a privilege.
Each soul is a star and all stars are set in the infinite azure, the eternal sky-the Lord.
Soft-brained people, weak-minded, chicken-hearted , cannot find the truth. One has to be free, and as broad as the sky.
The past was great no doubt, but I sincerely believe that the future will be more glorious still.
As soon as extreme attachment comes, a man loses himself, he is no more master of himself, he is a slave.
The man who becomes angry never does a great amount of work, and the man whom nothing can make angry accomplishes so much.
Take courage and work on. Patience and steady work- this is the only way.
Be an atheist if you want, but do not believe in anything unquestioningly.
You must all pay attention to your health first.
The awakening of the soul to its bondage and its effort to stand up and assert itself - this is called life.
Eka-Nishtha or devotion to one ideal is absolutely necessary for the beginner in the practice of religious devotion.
Blame nobody else, do not commit the mistake of the ignorant.
All the forces that are working in this body have been produced out of food; we see that every day.
There is only one Soul in the Universe. There is no 'you' or 'me'; all variety is merged into the absolute unity, the one infinite existence - God.
You yourselves are the Being you are seeking.
Thank God for giving you this world as a moral gymnasium to help your development, but never imagine you can help the world.
Let him who has courage in his mind and love in his heart come with me. I want none else.
The remedy for weakness is not brooding over weakness, but thinking of strength.
Where can we go to find God if we cannot see Him in our own hearts and in every living being.
In whatever name or form they are offered, all these flowers are laid at God's feet, for He is the one Lord of all, the one Soul of all souls.
I have come to this conclusion that there is only one country in the world which understands religion - it is India.
None of us have yet seen an ideally perfect man, and yet without that ideal we cannot progress.
If you are pure, if you are strong, you, one man are equal to the whole world.
Real freedom is not merely doing what you like, but also NOT doing what you like.
There is no other teacher but your own soul.
One may gain political and social independence, but if one is a slave to his passions and desires, one cannot feel the pure joy of real freedom
Man makes the mistake of separating himself from God and identifying himself with the body.
Everyone goes with the flow... but the one who goes against the flow becomes someone remarkable in life.
The best thermometer to the progress of a nation is its treatment of its women.
The mind is but the subtle part of the body. You must retain great strength in your mind and words.
Neither money pays, nor name pays, nor fame, nor learning; it is CHARACTER that cleave through adamantine walls of difference.
The banyan tree does not mean awakening, nor does the hill, nor the saint, nor the European couple. The lotus is a symbol of regeneration.
The Hindus have to learn a little bit of materialism from the West and teach them a little bit of spirituality.
Whatever you think, that you will be. If you think yourselves weak, weak you will be; if you think yourselves strong, strong you will be.
We must be bright and cheerful. Long faces do not make religion. Religion should be the most joyful thing in the world, because it is the best.
Our religion teaches that anger is a great sin, even if it is "righteous".
It is the greatest manifestation of power to be calm.
True progress is slow but sure.
If you have knowledge and see a man weak, do not condemn him. Go to his level and help him if you can. He must grow.
Say, "I can do everything ." "Even if poison of a snake is powerless if you can firmly deny it."
Take up an idea, devote yourself to it, struggle on in patience, and the sun will rise for you.
---
Motivational Quotes by author